Chicago Coin Club
Chicago Coin Club
---
ABOUT THE CLUB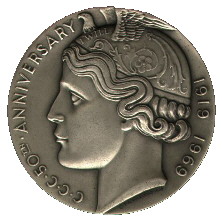 The Chicago Coin Club is a group of collectors interested in all aspects of numismatics. The objective of the club is to pursue numismatic knowledge through the study and research of coins, currency, medals, tokens, and other related items and the sharing of this information through monthly meetings, dialogue, and the publication of literature.
The Chicago Coin Club was founded in 1919 and has continued uninterrupted for over 90 years.
The Chicago Coin Club does not buy, sell, or offer opinions as to the price or grade of a coin. The Club's operating revenues come from annual dues paid by members, bequests, contributions, and gifts. All expenditures are for operating expenses or for the advancement of numismatics.
Any person interested in numismatics is eligible for membership.
AFFILIATIONS
Life Membership 7
1999 Convention Host Club

Life Membership 150

Life Membership 132
CONTACT INFORMATION
For additional information about the Chicago Coin Club, you email:

or write:

Chicago Coin Club
P.O. Box 2301
Chicago, IL 60690
MEETINGS
We meet monthly in downtown Chicago on the second Wednesday of every month at 6:45 pm.
Except for the December banquet, our current downtown meeting space is at the Chicago Bar Association, 321 S. Plymouth Court, 3rd floor meeting room. Plymouth Court is located between State and Dearborn Streets; Plymouth is a short street, going south from Jackson. Please remember the security measures at our meeting building: everyone must show their photo-ID and register at the guard's desk.
In addition to our monthly meetings downtown, we also meet at some local shows. In February or March we meet at 1 pm on a Saturday at the Chicago Paper Money Exposition (CPMX). In March or April we meet at 1 pm on a Saturday at the Chicago International Coin Fair (CICF). And we usually meet at Central States when their convention is nearby. The photo-ID and pre-registration security measures are not needed for attending our meetings at CPMX, CICF, or ANA and Central States when they are in town.
August 17, 2013 - CCC Meeting - 1PM at the ANA's World's Fair of Money, which is held at the Donald E. Stephens Convention Center, 5555 North River Road, Rosemont, IL. No admission charge for our meeting.
Featured Speaker: Kevin Brown, on Serial Numbering on U.S. Paper Currency
We are fortunate to have as our featured speaker, Kevin Brown, Manager of the Marketing Division for the BEP since 2002. Kevin will give an in-depth explanation on the creation of Serial Numbers that appear twice on the face of all U.S. currency. Serial Numbers are not a group of numbers randomly assigned. Every Serial Number is a deliberate and unique combination of numbers and letters. Everyone attending will gain an understanding of:
How the unique combination of numbers and letters are chosen
How the numbering scheme is determined
How each number is useful in the identification of the Series Year
The reasons for changing the Series Year
How the numbers are affixed
Be sure to make this program. This is also a great opportunity to interact with a BEP official and receive answers to questions you have always wanted to ask about their operation.
NEWSLETTER &/or PUBLICATIONS
Our monthly newsletter is called the Chatter and is mailed to all members at the beginning of each month.
Here is the current issue.
Contacting Your Editor / Chatter Delivery Option
chatter_editor@yahoo.com
The print version of the Chatter is simply a printout of the Chatter web page, with a little cutting and pasting to fill out each print page. The web page is available before the Chatter is mailed.
If you would like to receive an email link to the latest issue instead of a mailed print copy send an email to chatter_editor@yahoo.com. You can resume receiving a mailed print copy at any time, just by sending another email.
BECOME A MEMBER
To become a member of the Chicago Coin Club you must attend a meeting and fill out and submit an application along with a membership fee of $20 ($10 for Junior membership).
A 1st reading of your application will be held at this meeting for membership approval.
A 2nd reading will be held at the next monthly meeting, following publication of your name in the club newsletter. Upon membership approval, applicant will become a member. Applicant not required to be present at 2nd reading.
CLUB OFFICERS
Elliott Krieter - President
Richard Lipman - First Vice President
Marc Stackler - Second Vice President
William Burd - Archivist
Directors:
Steve Ambos
Robert Feiler
Dale Lukanich
Mark Wieclaw
Other positions held are:
Jeffrey Rosinia - Immediate Past President
Carl Wolf - Secretary
Steve Zitowsky - Treasurer
Paul Hybert - Chatter Editor
Robert Feiler - ANA Club Representative

---
Recent Club News
When to Dispose of Your Collection
2/21/2017
First VP Marc Stackler is putting together a program on "When to Dispose of Your Collection" and is looking for participants. See the basic outline below and write to Marc at stacklerm@gmail.com to volunteer your time and ideas.
Subject: When to Dispose of Your Collection
Panel: Three to four people max, plus a moderator. At least one dealer and one collector who has sold some of their collection.
**Important** the speakers must have EXPERIENCE in selling.
Depending on the number of people, the forum will operate according to one of two formats:
Each panel member relates their experience in selling and how they decided what to sell. Limit five minutes each, for a maximum 20 minutes running time. The moderator would ask for feedback and/or questions from the audience.
The moderator poses questions to the panelists. At various points throughout discussion, the moderator would ask for feedback and/or questions from the audience.
If Marc were the moderator, he would ask the panelists for questions or things to cover in advance, so there were ample topics to cover.
He would not want to take up time with his own story, and would instead stick to being a moderator only.
* * *
Next Meeting:
March 4, 2017
In Conjunction with the
PCDA National Coin & Currency Convention
Crowne Plaza Chicago O'Hare Hotel
5440 N. River Road
Rosemont, IL
Speaker: Dennis J. Lutz, President - International Bank Note Society (IBNS)
Topic: World Bank Note of the Year: Behind the Scenes
The IBNS Banknote of Year award is an initiative of the IBNS to recognize an exceptional banknote issued each year. Members nominate only those notes issued to the public and must have artistic merit, design, use of color, contrast, balance and/or innovative security measures. Dennis Lutz is the current president of the IBNS and will cover the history of this award that received recognition by Bloomberg Business Week with a featured article to "New Money". Assisted by CCC Member and IBNS General Secretary Roger Urce, Dennis will show the 19 specimens nominated for the 2016 award and discuss reasons some are under consideration. Everyone in attendance will receive a ballot that will be compared with the IBNS member vote total. Guests are welcome. You do not need to be a member of the Chicago Coin Club or the IBNS to attend the meeting.